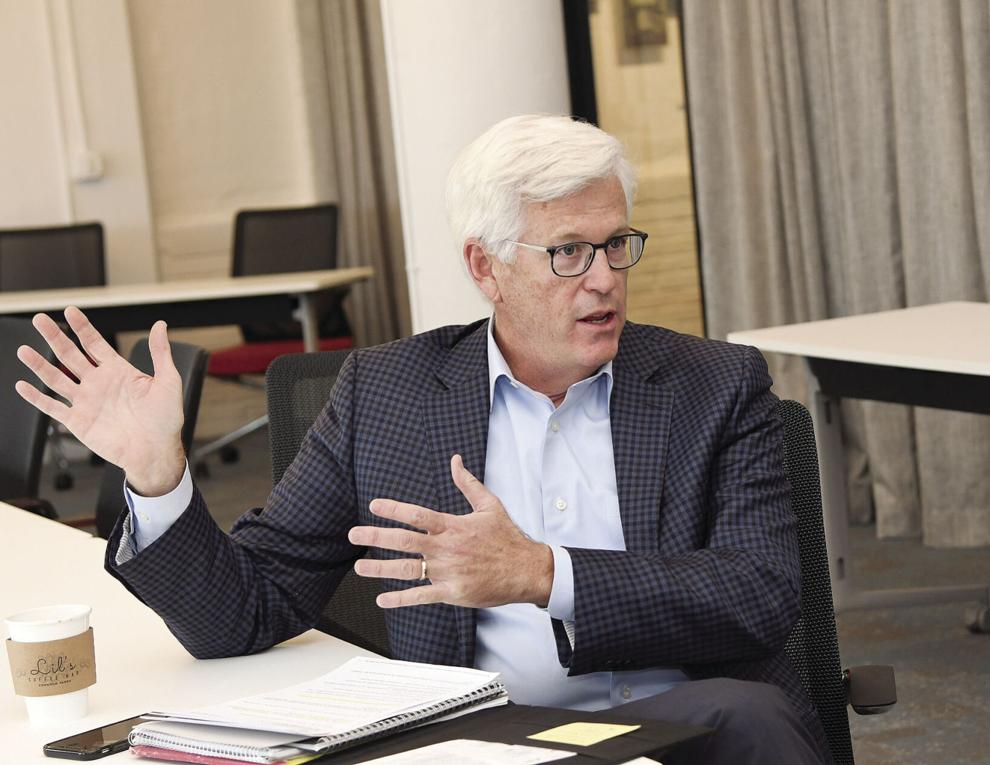 HIGH POINT — The past two years have been times of booming growth for Business High Point-Chamber of Commerce.
During the coronavirus pandemic, its membership rose to 1,000 and the $50 million Congdon Yards campus opened as an anchor of downtown redevelopment.
While there's much more to come on this front, chamber leaders say they're doubling down on programming initiatives centered around themes of innovation, entrepreneurship and leadership.
"We played a central part in getting High Point revitalized, and we're going to continue to do that," said Greg York, who recently began a two-year term as the organization's chairman. "Now we're looking at what's next."
Congdon Yards, which houses offices and seeks to serve as a hub for entrepreneurs, is fulfilling its mission, said York and chamber President and CEO Patrick Chapin.
"We have brought 200,000 square feet to life during COVID," Chapin said.
Funded largely by David Congdon and the Earl and Kathryn Congdon Family Foundation, their philanthropic investments in the campus have reached $50 million, Chapin said.
"I think Business High Point gave David a way to make this happen," said York, who is president and CEO of Vann York Auto Group. "Business High Point was the vessel to make this happen through his vision and his generosity."
Business High Point-Chamber of Commerce manages the campus.
Chapin said the office space on the campus is fully leased and that there will be 262 people working there daily in various capacities within three months.
Major construction is ongoing on the Factory portion of the campus, all of which will be done by the first quarter of 2023, he said.
The bottom floor will be space for Theatre Art Galleries and Earl's Landing, a gastro pub named for Earl Congdon.
The floor above it will include a yet-to-be-named restaurant and the chamber's new offices, as well as 33 smaller work spaces for lease, Chapin said.
The third floor will house 20,000 square feet of conference center space. This and the 20,000-square-foot Loft at the Factory space on the top floor will satisfy the immediate needs for event center space, he said.
"Our biggest challenge and our biggest concern is parking," said Chapin, noting that a parking study is about to be concluded and that there will be ample parking outside the Factory when construction is done.
Demand for the Generator, an industrial-grade woodworking shop in the Plant 7 portion of the campus, has grown to the point that it needs to expand.
"We have a plan to expand the Generator to a 30,000-square-foot satellite site in the southwest district," Chapin said. "We're excited about that opportunity. I think the southwest district is kind of Catalyst 2.0, in a way. There are a lot of great organizations between COHAB and Dorothy Darr's organization (Southwest Renewal Foundation), so we deliberately focused on the southwest district."
Beyond Congdon Yards, the chamber will focus on its traditional functions like small business outreach, workforce development and regional collaboration, as well as new initiatives like its Thrive High Point minority entrepreneurship program.
"We're working on a new strategic plan now, and a big part of that is getting feedback from our members on what their needs are," York said. "We want to make sure our reach is broader and more diverse."
He said relations are the best he's ever seen between city government, businesses and partners like High Point University.
"A creative, vibrant chamber with proper resources and productive government relationships is essential in supporting current High Point businesses and attracting new companies to our town," York said.
_____________
pkimbrough@hpenews.com | 336-888-3531