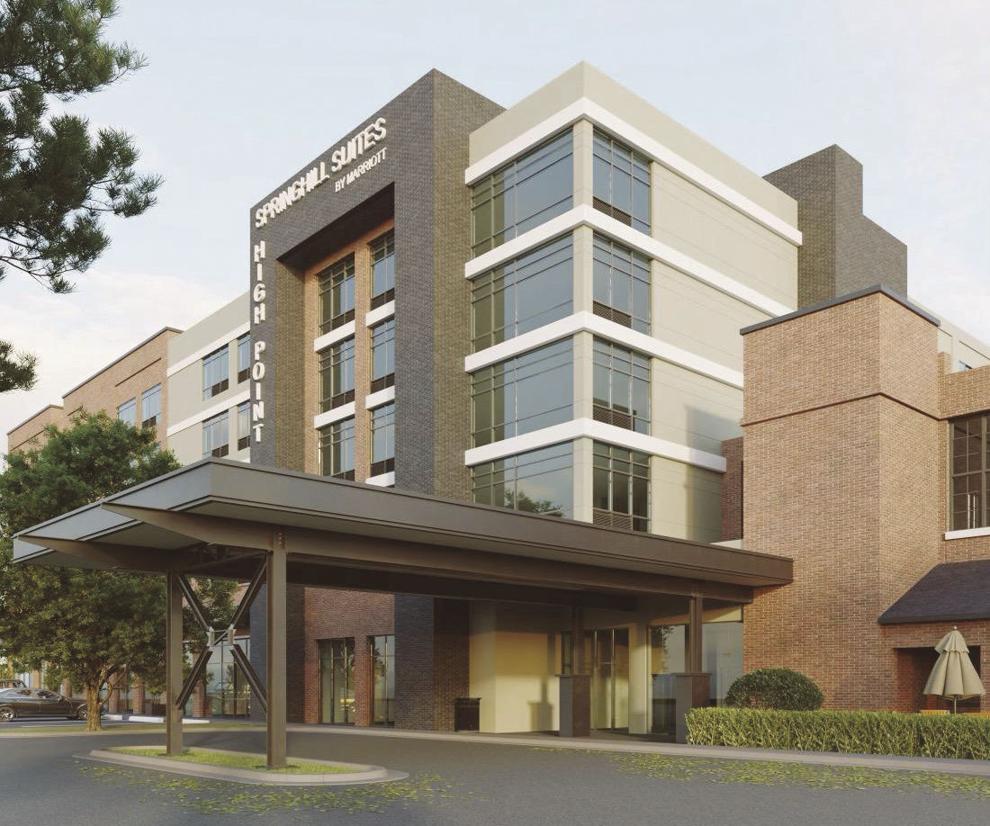 HIGH POINT — Congdon Yards leaders said Thursday that a hotel that will be built at the downtown High Point campus will be a SpringHill Suites by Marriott.
The 128-room project will break ground in the third quarter of this year at 401 W. English Road and is being developed by Benchmade Ventures out of the Charlotte area, said Patrick Chapin, president and CEO of Business High Point-Chamber of Commerce, which operates Congdon Yards.
It will include customized features that differ from the prototype of SpringHill Suites, which Marriott considers part of its "classic select" brand segment.
It will combine an adaptive reuse of a historic Adams-Millis facility with a new construction tower with guestrooms.
"I am excited to announce that our community will be welcoming a 128-room SpringHill Suites by Marriott," Chapin said. "Being adjacent to Congdon Yards and becoming part of our campus is wonderful. But more importantly, our city is going to have a much-needed, custom hotel to serve visitors and guests from around the world."
The franchise for the hotel was awarded by Marriott last year, he said.
To date, 60% of the architectural, engineering and interior design is complete, and preconstruction activities are underway, he added.
The expected opening date will be first quarter 2024.
Congdon Yards leaders last year opened the campus in two 100-year-old former hosiery mills that were renovated into a hub for entrepreneurs and established businesses.
They have long made it a priority to land a top-quality hotel to continue downtown revitalization efforts and support ongoing redevelopment initiatives of the city, Elliott Sidewalk Communities, Peters Development and others, Chapin said.
The hotel site was purchased last year by the Earl and Kathryn Congdon Family Foundation, as part of the foundation and David Congdon's $50 million philanthropic investment into Congdon Yards and downtown revitalization.
While the future hotel will be considered part of the Congdon Yards campus, it won't be owned or controlled by the foundation or Business High Point, Chapin said.
The site is across English Road from the main part of Congdon Yards.
The hotel will be built on a footprint that includes part of the campus parking lot and the newer portion of the former Paul Robert showroom, which will be demolished.
The older part of the former showroom, which was an Adams-Millis machine shop, will be retained and will house the hotel's lobby, conference spaces and dining area.
"The rich history of this building will be on full display in the lobby/lounge with 35-foot ceilings," said Michael Kren, managing partner with Benchmade Ventures.
He and David Bennett, also a managing partner with the firm, are leading the development of the hotel.
"High Point provides a tremendous opportunity for hospitality development," Bennett said. "There is an incredibly diverse array of demand drivers ranging from higher education, conferences and trade shows, as well as a robust local manufacturing economy."
The firm recently developed a Fairfield by Marriott hotel in a historic part of downtown Morganton.
"This (High Point) project presents a unique set of challenges from a development standpoint, which is right up our alley," Kren said. "We have had quite a lot of experience with adaptive reuse projects and enjoy the opportunity to create a space that combines new construction that meets the expectations of the modern-day consumer with historic architecture that speaks to the history of High Point."
He said the new construction portion of the project will feature a "clean, modern feel," and will include two custom "super suites," each with 1,000 square feet of space, two bathrooms, a full kitchen and large landscaped patios with fire pits.
High Point interior design firm Barbour Spangle will create a high-end custom interior in all the public spaces of the hotel, as well as the two custom suites.
"This investment will elevate the product and reflect the backbone of High Point's economy and rich history, while striking a chord with discerning guests from the home furnishings industry and beyond," said Christi Barbour, founder and partner of Barbour Spangle Design.
Chapin noted that, while a hotel is an important part of the ongoing revitalization downtown, other developments are also vital, including the efforts by the city to secure more parking and implement streetscape improvements.