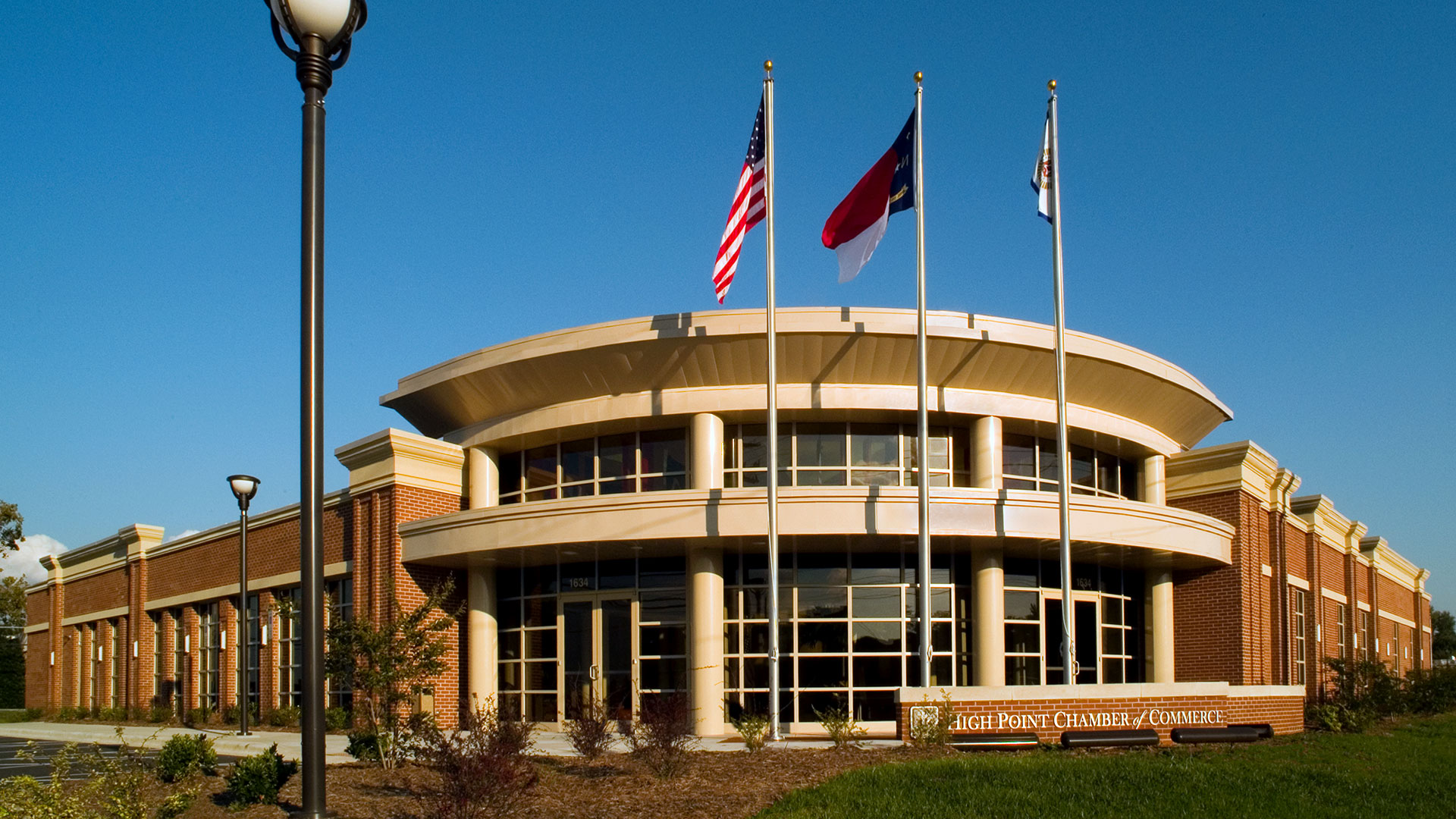 HIGH POINT — High Point University has bought the Business High Point-Chamber of Commerce headquarters to serve as the flagship location for a dental practice associated with the university's new dental school.
The university acquired the property at 1634 N. Main St., which sits on 1 acre at the corner with State Avenue, an HPU representative told The High Point Enterprise Tuesday.
As part of the new dental school — which will comprise 80,000 square feet in a new building on campus and is expected to enroll its first class in fall 2023 — the university plans an innovative approach with a network of dental practices throughout the community.
The university-affiliated practices will allow students to gain hands-on experience.
HPU has said it will partner with dentists who are nearing retirement in operating the practices, which are also planned for locations elsewhere in the Triad and possibly beyond.
On Monday, HPU President Nido Quebin announced the dental school will be named after dentist and businessman Dr. Rick Workman, whose family foundation made a $32 million donation to the school's development.
Business High Point-Chamber of Commerce has used the 23,000-square-foot building for its headquarters since 2006.
President and CEO Patrick Chapin said the organization, which put the property on the market about a year ago, plans to stay until late September, when it moves its offices to Congdon Yards.
Visit High Point, the primary tourism agency in the city, which leases space at 1634 N. Main St. from the chamber for its offices and its Regional Visitors Center, will remain in its current location.
"We are thrilled that High Point University is purchasing the Business High Point-Chamber of Commerce building. We have had multiple entities interested and I can't think of a better 'win' for all involved," Chapin said. "Visit High Point will remain as is and will continue to offer extraordinary service to our visitors, guests and community. HPU will be creating a 'flagship dental practice' to complement their new dental school, and we are able to make the exciting and expected plan to move to Congdon Yards."
Visit High Point moved to its current location in 2014 after renovations that transformed part of the building into the visitors center.
"We are pleased that we will be able to stay in our current location as we deliver a customized experience for our out-of-town visitors, partners and the overall community," said President Melody Burnett. "We are happy to work with High Point University as they reimagine the space that will continue to enhance our city."
The building was previously a retail rug store owned by Zaki Khalifa, who donated the property to the chamber in 2005.
"This announcement is exciting for High Point's future, but it must be said that we would not be in this position had it not been for Zaki Khalifa, who generously donated this building to the chamber back in 2005," said Chapin. "We owe a great debt of gratitude to him and many others for their generosity. We look forward to recognizing many during this transition and thank them for encouraging the chamber to thrive and, these many years later, be stronger than ever."
The chamber, which manages Congdon Yards, will occupy office space in the Plant 7 portion of the downtown campus.
"Our new space in Congdon Yards will be approximately 5,000 square feet and will reflect 'a pinch of tradition, a feeling of inspiration and cool-factor, as well as a sense of innovation and community,' " said Chapin. "We are very excited about the vibe and energy our new space will reflect. It will set the tone for the future of Business High Point and how we best serve our community."
By PAT KIMBROUGH and paul b. johnson enterprise staff writers