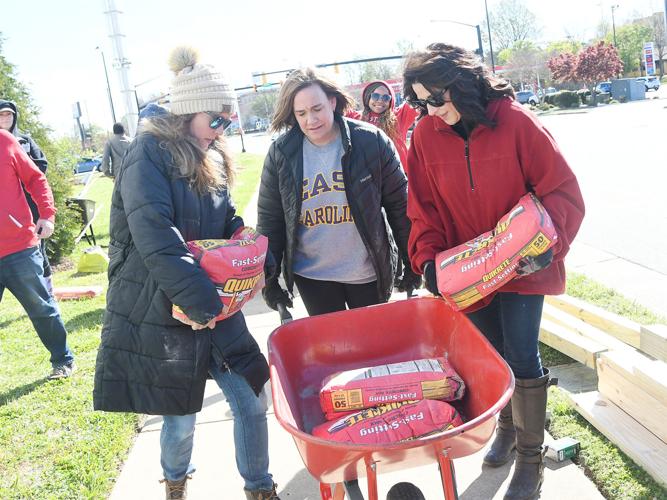 HIGH POINT — Leadership High Point class members worked in cold and windy conditions Saturday morning to enhance learning spaces at the High Point Public Library.
About 40 professionals in Leadership High Point's Class of 2022 built a wheelchair-accessible raised garden bed and created an outdoor storybook pathway to connect the library's existing teaching garden with a proposed sensory garden the High Point Rotary Club plans to install in the summer. The leadership class also plans a mobile 16-by-8-foot vertical Lego wall, to be installed later this spring, in the children's section of the library that will be used primarily to promote creativity and multisensory learning.
Leadership High Point class members began learning about community needs last fall and voted in December to take on the library-based projects in order to improve access for the entire community, said class member Kori Mackall, assistant head of school at The Piedmont School and John Yowell Academy.
Leadership High Point class members raised more than $2,500 to buy materials for the three projects. Torres Transformations donated soil and tools.
"We thought it was a way for the library to get all of their projects completed in the shortest amount of time and have the greatest impact," Mackall said. "With the library being centrally located and all of the great things the library does, like the Farmer's Market and the various events they have that bring people in, we felt like it would have the greatest impact on our community."
Children are more likely to succeed in life if they develop foundational skills in reading, science, engineering and art, said Rase McCray, the city of High Point's manager of human relations, communications and public engagement and a member of the leadership class.
"As an extra bonus, all of the projects intentionally integrate with the library's upcoming sensory garden, so we also know these projects will be in an active area where lots of kids will visit," he said.
The story walk has stakes displaying sections of books children can continue to read as they move along the path, which is between the teaching garden near the Elm Street side of the library and where the 7,000-square-foot, self-contained sensory garden will be developed on the southeast corner of the library campus, between Sunset Drive and N. Main Street.
Mackall said it should provide "a peaceful and wonderful experience."
"I'm imagining kids going there with their parents on the weekend and being able to walk the story walk and looking forward to the stories changing and going back to see them," she said.
Mark Taylor, a librarian at the High Point Public Library who tends the teaching garden, agreed.
"We're really excited for how these new projects will expand our capabilities in the teaching garden, including vegetables and perennials that we haven't had room for before," Taylor said. "As part of our increased outreach to our international residents, we also hope to grow more vegetables and herbs that are used in cuisines from around the world."
_________________________________________
cingram@hpenews.com | 336-888-3534 | @HPEcinde